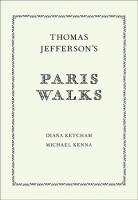 Thomas Jefferson's Paris Walks
2012
46 Photographs
Published by: Arion Press


Distributed by Arion Press

Text by Diana Ketcham
Photographs by Michael Kenna

In 2011, Arion Press invited Michael Kenna to retrace Thomas Jefferson's footsteps in Paris, the city Jefferson came to love while minister to France from 1784 to 1789. The result is a series of forty-six photographs of Paris, printed in duotone, which are published here for the first time. The volume is written as a guidebook, with annotated maps of five Paris neighborhoods. The story of Jefferson's Paris years unfolds as the reader follows his habitual notes, learning about his friends and associates at the addresses where they actually lived. The favorite buildings of Jefferson the architect are identified, including those that influenced his designs for Monticello, the University of Virginia, and the future Washington, D.C. Besides beloved landmarks such as the Pont Royal, Louvre, and Palais Royal, Kenna found and documented forgotten Jefferson sites, such as his daughters' convent school, the gardens of Hotel de Salm, and the interiors of the Mint, adding a new visual record to this fascinating chapter in French and American history. Michael Kenna's previous collaborations with Arion Press include some of its most prized editions: The Hound of the Baskervilles (1985), Le Desert de Retz (1990), and Silverado Squatters (1996). A portion of the book edition may be purchased from Arion Press with an accompanying sepia-toned silver gelatin photograph printed, signed, and numbered by Michael Kenna. The book edition is signed and limited to 400 copies for sale.