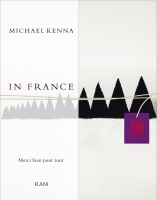 In France
2011
58 Photographs
Published by: RAM, Japan


Distributed by Nazraeli Press

Introduction by Michael Kenna

This artist's book follows on from previous publications by RAM (Tokyo); "IN JAPAN" (2006), "IN HOKKAIDO" (2009) and "IN JAPAN" (Revised and Expanded. 2010). "IN FRANCE - Merci bien pour tout" contains a selection of fifty eight images Michael Kenna has made in France between the years of 1984 and 2011. Michael conceived this book as an homage to his late friend and agent Martine Renaudeau d'Arc (1937-2011). Distributed in Japan by RAM, Tokyo and in the USA and Europe by Nazraeli Press. "IN FRANCE" is bound in vellum, with a traditional Japanese thread winding around the book. This first edition is limited to 2,000 copies.