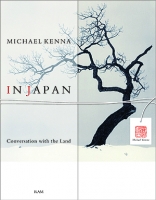 In Japan (New Expanded Version)
2010
65 Photographs
Published by: RAM, Japan


Distributed by Nazraeli Press

Introduction by Ryuichi Kaneko
Text by Michael Kenna

In 2006, RAM (Tokyo) published a slender, very beautiful artist's book by Michael Kenna called "In Japan" on the occasion of a major exhibition of Kenna's work at the Tokyo Metropolitan Museum of Photography. The first printing sold out almost immediately. A new, expanded edition of this rare book has just been released, and will be distributed in the United States and Europe exclusively by Nazraeli Press. "In Japan: Conversation with the Land" is beautifully bound in vellum, with a traditional Japanese thread binding. The book opens with an introduction by acclaimed Japanese curator Ryuichi Kaneko. Advance orders are encouraged: only three hundred copies will be distributed outside of Japan.